Mexico's pristine coastline is a paradise for travelers, and Mahahual, a laid-back village in Quintana Roo, is no exception. Along its azure waters and sandy beaches, you'll find a selection of unique accommodations that embody the charm of the local culture and the breathtaking natural beauty of the surroundings. So if you're planning a trip, here are the ten best hotels in Mahahual that guarantee an unforgettable experience.
From eco-friendly lodges to luxury resorts, each of these properties has something special to offer. They've been chosen for their exceptional service, stunning locations, and of course, their uniquely Mahahual flair. Let's embark on this journey!
1. Almaplena Eco Beach Resort
Away from the town's bustle, Almaplena Eco Beach Resort is an eco-friendly haven offering tranquillity and privacy. This resort ensures that your stay is relaxing and memorable without compromising the environment. Its beautiful beachfront cabins are designed using locally sourced materials, blending harmoniously with the natural surroundings.
The restaurant at Almaplena serves up mouth-watering dishes with many ingredients grown in their own organic garden. From snorkeling in the coral reef to yoga on the beach, the resort offers a range of activities that let you immerse yourself in the local beauty, culture, and lifestyle.
2. Koox Quinto Sole Boutique Hotel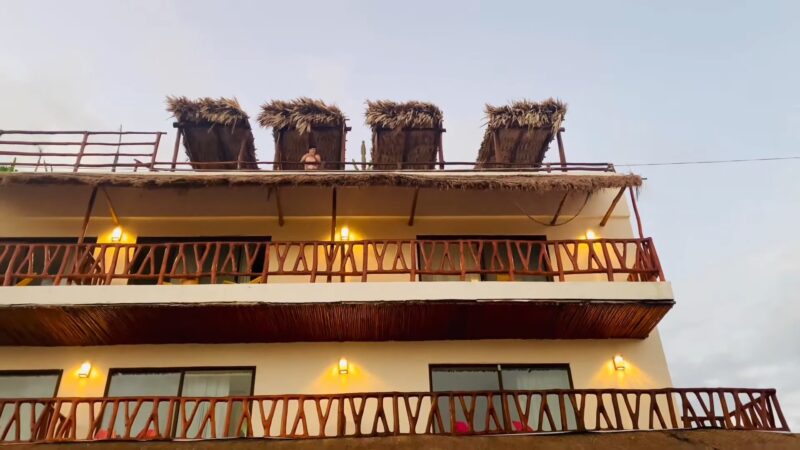 Koox Quinto Sole Boutique Hotel brings you the luxury of simplicity. Its minimalist design combines perfectly with the beauty of Mahahual's white-sand beaches and turquoise waters. Each room is equipped with modern amenities and boasts breathtaking sea views, letting you wake up to the ocean's music every morning.
At, you also have a splendid gastronomic experience at their onsite restaurant, Leaky Palapa. It serves an innovative fusion of Mexican and International cuisines, prepared using the freshest local produce. Whether you're sunbathing by the pool or diving into the Caribbean Sea, the hotel ensures your stay is as indulgent as it is serene.
3. Hotel Arenas
Hotel Arenas is an intimate, family-run hotel that offers a warm, personal touch to your Mahahual experience. This oceanfront property is renowned for its superb service, clean facilities, and proximity to the best snorkeling and diving spots in Mahahual.
The hotel's rooftop terrace offers panoramic views of the Caribbean Sea, and their in-house restaurant serves up delectable local seafood and Mexican cuisine. At Hotel Arenas, you're not just a guest – you're part of the family. The staff goes the extra mile to ensure you have a memorable stay and truly experience the charm of Mahahual.
4. Maya Luna Mahahual Eco-Hotel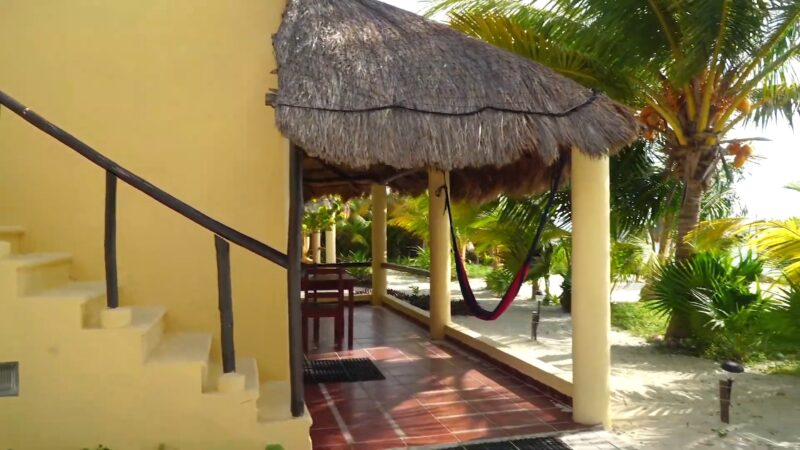 As its name suggests, Maya Luna Mahahual Eco-Hotel takes pride in its eco-friendly operations. This beachfront property consists of thatch-roofed bungalows, each having a private rooftop terrace and bathroom facilities that conserve water. The hotel is powered by solar and wind energy, reflecting its commitment to sustainability.
The hotel's restaurant offers a diverse menu featuring Mexican-Asian fusion cuisine. The highlight here is their specialty – lionfish, an invasive species that is causing harm to the local reefs. By serving lionfish dishes, the hotel contributes to controlling its population while offering a unique gastronomic delight to its guests.
5. Matan Ka'an Hotel
The Matan Ka'an Hotel in Mahahual is a testament to simple elegance and charm. Nestled in the heart of the village, this hotel is just a stone's throw away from the beautiful Caribbean Sea. Each room is beautifully decorated with local artwork and handcrafted furnishings, creating a cozy and inviting ambiance.
The hotel also features an on-site restaurant that offers an exquisite selection of local and international cuisines. The infinity pool, with panoramic views of the surrounding greenery and distant sea, provides the perfect spot to unwind after a day of exploring Mahahual.
6. Hotel Luna De Plata
Hotel Luna De Plata is a beachfront paradise that blends Italian hospitality with Mexican charm. Each of its rooms and apartments features unique decor, equipped with all the necessary amenities for a comfortable stay. The hotel's balcony offers stunning views of the Caribbean Sea, making it an ideal spot for an evening cocktail.
The hotel's Italian restaurant, Dolce Vita, is famous for its homemade pasta and pizzas, cooked in a traditional wood-fired oven. So, whether you want to explore the coral reef or simply enjoy a margarita by the sea, Hotel Luna De Plata is the perfect choice.
7. Hotel 40 Cañones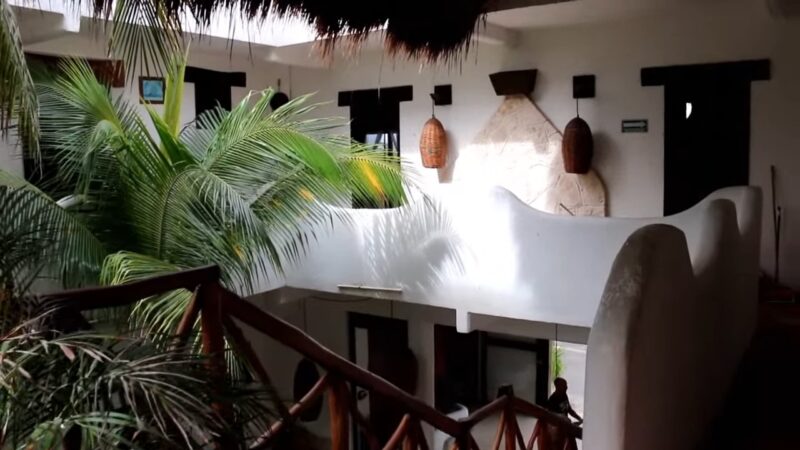 This boutique hotel is another gem in Mahahual that offers a unique blend of comfort and culture. Located right on the beach, Hotel 40 Cañones is named after the shipwrecks found along Mahahual's coast, making it a hit among diving enthusiasts.
With rustic decor and modern amenities, each room provides a cozy sanctuary after a day filled with adventures. Their restaurant, 40 Cañones, is well-known for its delicious seafood and authentic Mexican dishes. From diving expeditions to beachside massages, the hotel offers activities that cater to every guest's preference.
8. Mahahual Dive Centre Hotel
The Mahahual Dive Centre Hotel is a haven for diving enthusiasts. Not only do they offer comfortable accommodations with ocean views, but they also provide comprehensive diving packages that cater to divers of all levels. Whether you're a beginner or an experienced diver, you'll find the underwater world of Mahahual intriguing and vibrant.
Moreover, the hotel features an in-house restaurant that serves traditional Mexican cuisine, allowing guests to savor the authentic flavors of the region. With its friendly staff and excellent service, the Mahahual Dive Centre Hotel ensures a wonderful stay for all its guests.
9. Blue Kay Eco-Resort
Blue Kay Eco-Resort, with its rustic wooden cabins and serene beachfront location, offers an immersive experience of Mahahual's natural beauty. The eco-resort operates with a strong focus on sustainability, employing practices such as rainwater harvesting and composting.
The resort's open-air restaurant serves fresh, local cuisine in a casual setting, and the beach bar is the perfect place to enjoy a drink under the starlit sky. Whether you're looking for adventure or relaxation, Blue Kay offers activities ranging from kayaking and paddleboarding to yoga and massages.
10. Hotel Mexico Lindo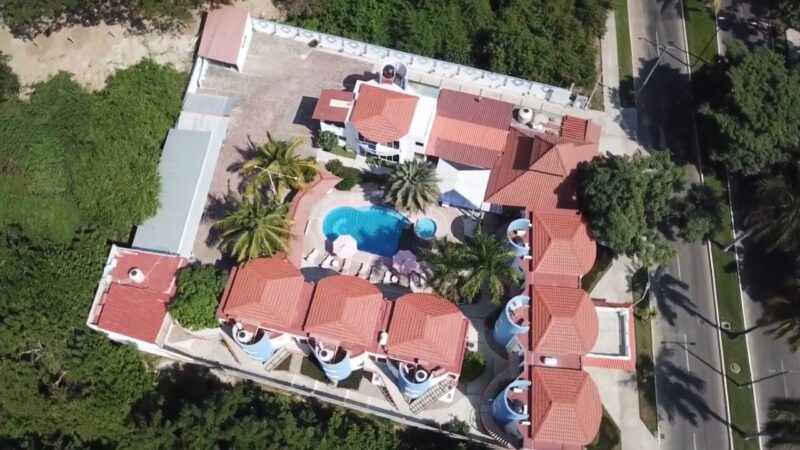 Hotel Mexico Lindo, located in the heart of Mahahual, is a charming boutique hotel that offers a blend of comfort and convenience. With its contemporary decor and a rooftop terrace offering panoramic views of the town, this hotel ensures a comfortable and enjoyable stay.
The hotel's proximity to the beach, local restaurants, and attractions make it an ideal base to explore the beauty of Mahahual. The friendly and helpful staff provide a wealth of local knowledge, ensuring that you make the most of your stay in this enchanting village.
Final Words
Choosing the right accommodation is a crucial part of your travel experience. The above list of Mahahual hotels, each with their unique charm and offering, ensures that there's something for everyone. Whether you're looking for luxury, an eco-friendly stay, a dive resort, or just a comfortable base to explore the area, you'll find it in Mahahual.
If you ever decide to visit Mahaual, consider going on a tour to see one of the World's Wonders based in Mexico.